Fill gaps in your confidence with multiple dental implants
Restore a complete smile with dental implants.
Missing just one tooth can have devastating effects on your health and your confidence. But when gum disease, oral trauma, or another factor leads to multiple missing teeth, we encourage patients to consider their treatment options before the effects worsen. As an experienced team of award-winning dentists with training from the Pikos Institute and the Misch International Implant Institute, we provide our patients with more than one trusted restorative solution. Partial dentures, dental bridges, and bridges supported by dental implants are all options; however, we've found that when placed by an implant dentist, dental implants in Schaumburg and Norridge, Illinois offers the most dramatic and life-changing effects.
Dr. Piotr (Peter) Troyan has personally placed over 10,000 dental implants for patients in the communities of Schaumburg and Norridge, Illinois. In addition our surgical associate doctors also carry multiple years of implant surgery experience to serve our patients in Schaumburg and Norridge locations. With a 95% success rate, we offer dental implants that truly last. Consisting of three parts, a natural-looking crown, a connecting abutment, and a titanium implant post that's placed directly in the jawbone, dental implants not only look like natural teeth but function and act like them too. Using two or more dental implants as the foundation, we can restore patients' smiles in just one day with dental implants. Comprehensive, caring, and custom tooth replacements are here. Find out which solution is best for you.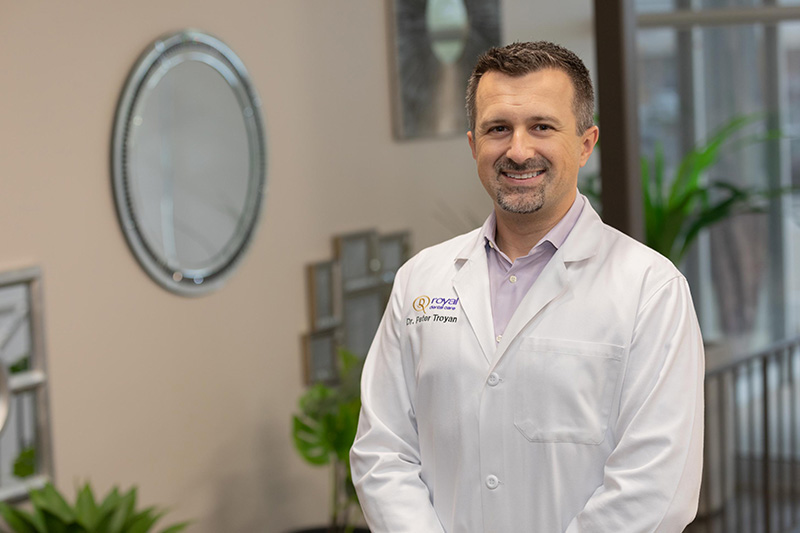 Dr. Peter Troyan As far as dental implants are concerned, the process is simple. It's a screw goes in place of a root. So simple replacement 1-2-1 usually. Doctors make it very complicated and make it sound all fancy, but for patients, all that matters is they're getting a tooth back that they lost. So an implant is a replacement for their loss tooth that's as simple as it can be.
Mainly it's for prevention, andand it's to prevent issues down the line. It's to increase longevity, of the patients because some studies have found that patients without teeth live about 10 years shorter compared to their peers that have teeth. So we do increase patients longevity, but quality of life quality definitely increases. I mean, if you think about somebody that has to mush their food every day, is that a good nutrition? I don't think so.
As far as our technology right now is concerned. They're the best replacement for a tooth. Tooth is still great. It's one of the things that we want to keep, but once the tooth is gone, implant is second best choice. By having that tooth quickly replaced, we don't lose bone, we don't lose facial aesthetics and we don't lose the smile. That's all we care about, right? Then functionality, you can chew better guaranteed.
We welcome all patients at Royal Dental Care, specifically those that find the need to replace their missing tooth with an implant. We do thousands of these per year, and we have the experience ,the expertise, the technology, and equipment to make that process happen easier, faster, and definitely more economical.
Free Smile Preview
See your complete smile today. Send us a picture and we'll show you what your final smile will look like, before treatment even begins!
Upload Your Picture

Upload Your Picture
Why See Royal Dental Care For Multiple Dental Implants?
Team of implant dentists with decades of experience
Comprehensive implant care in one location
Same-day dental implant solutions
Personalized dental implant process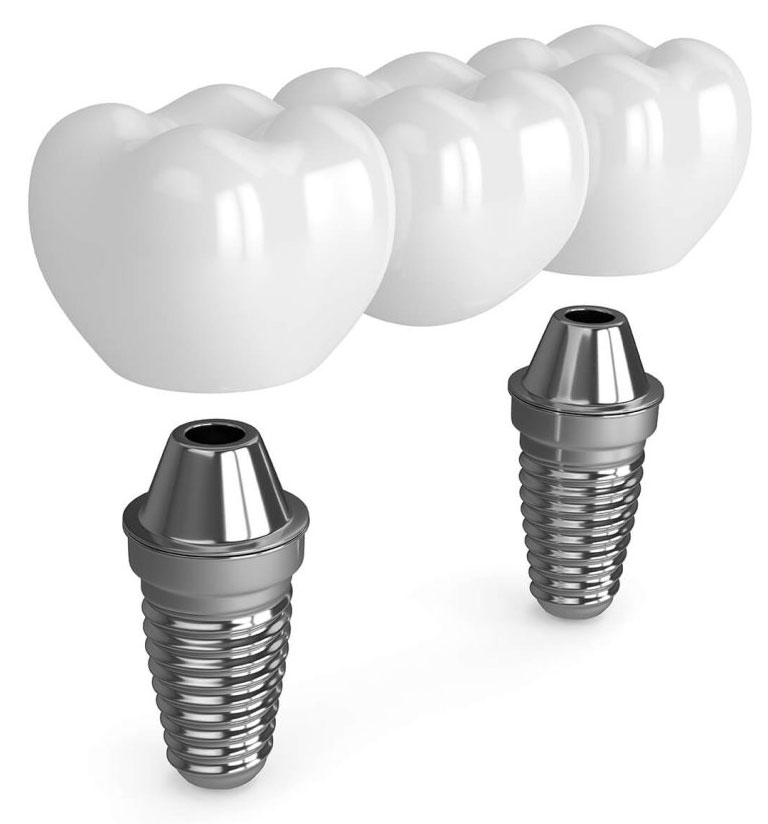 Three Steps To A More Confident You
Phase One: Custom Consultation
We'll begin with a personalized consultation, including an examination and a thorough discussion of your health and aesthetic goals. We'll work closely with you to determine which solution will meet your unique needs and create a treatment plan that fits your preferences and budget. There's no need to use your imagination to see what your future smile could look like. We'll digitally design it and show you what to expect with our virtual smile design technology. Many patients qualify for dental implants already, but we'll determine this after a 3D CT scan using our in-house, low-dose RAYSCAN α+ CBCT. After just 4-5 seconds, we'll capture high-definition scans of the location of nerves and bone density levels. Using this imaging, we'll preplan your dental implant surgery, finding the ideal location for long-term stability. Before you leave your first appointment, we'll schedule your next visit for your dental implant placement.
Phase Two: Dental Implant Surgery
When you return, we'll make you feel comfortable by welcoming you to your private room. Although only local anesthetic is required, we also offer a spectrum of sedation services, including nitrous oxide, oral sedation, and IV sedation for your comfort. Once relaxed, we can perform additional procedures, including tooth extractions or bone grafting, to prepare your treatment site. Placing dental implants should take about an hour. Using our preplanned guide, we eliminate the guesswork and ensure each post is inserted precisely for long-term reliability and optimal aesthetics. High-quality results are only possible by using high-quality technology and materials. That's why we use dental implants from trusted industry leaders like BioHorizons® and Nobel Biocare™. In most cases, your dental implants will be stable enough to hold a temporary set of new teeth on the same day as placement. We make these in-house and customize them to your unique look so you leave with a complete and functional smile!
Phase Three: Your Permanent New Smile
After three or more months of healing, your dental implants will fuse with your jawbone through "osseointegration." This allows implants to offer restored function and maintain healthy jawbone growth. When you return, we'll replace your temporary bridge with a new one of custom-designed teeth that provides long-term function and natural-looking aesthetics that will even fool you. With these permanent restorations, you'll return to a life of restored function, health, and confidence!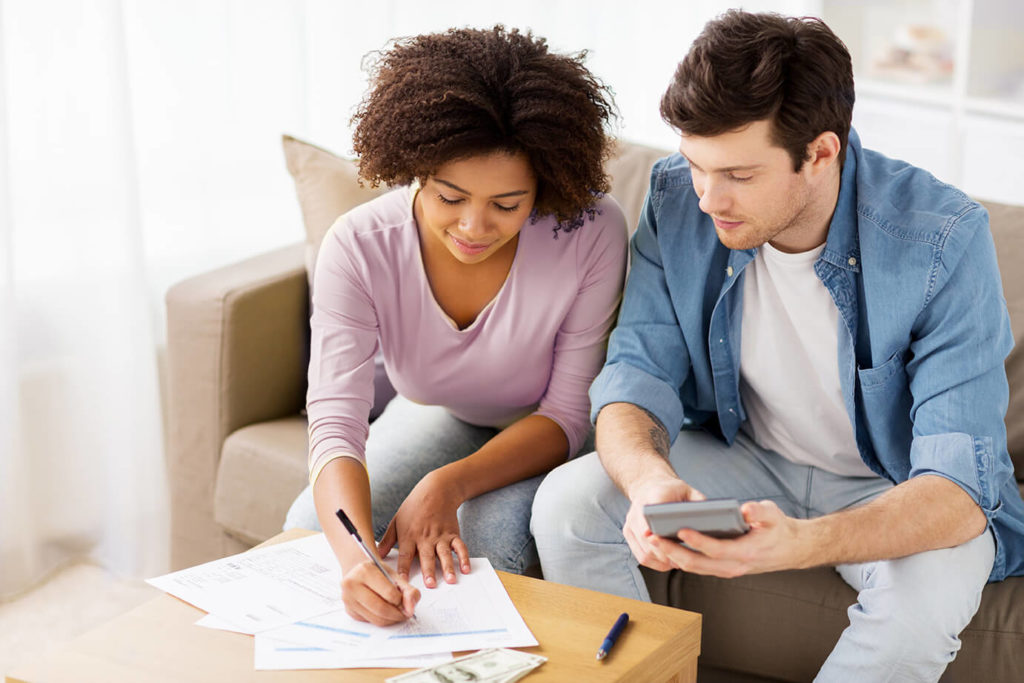 We'll Make Dental Implants Affordable
Confidence in your esthetics, in your oral function, and in your ability to live life unrestricted. That's what dental implants can offer our patients for decades to come. Dental implants are frequently our patients' preferred treatment as the only long-term tooth replacement solution that looks, feels, and functions like natural teeth. The one aspect of this solution that some are wary of is the cost of dental implants. We want to accommodate your needs in any way possible, including your budget. We can phase out your treatment plan to match more affordable payment plans. We partner with numerous third-party financing companies and file dental insurance claims for your convenience. We can make dental implants affordable for you and help you restore the complete smile and confidence you want!
Contact us today!
If you are ready to learn more about solutions for your smile, contact our Schaumburg (773) 232-3929 and Norridge (847) 999-7620, IL area dental team at Royal Dental Care to request an initial evaluation and consultation visit.