Complete your smile with a dental implant and fixed crown or bridge!
Although it may only be a single tooth, it creates significant changes in your life. Not only are you insecure about your appearance, but you also can't eat certain foods anymore. Plus, there are oral health complications brewing beneath the surface. At Royal Dental Care of Norridge and Schaumburg, Illinois, we can rebuild a close replica of what nature gave you using a dental implant. We have the latest solutions to replace missing teeth to enhance your quality of life.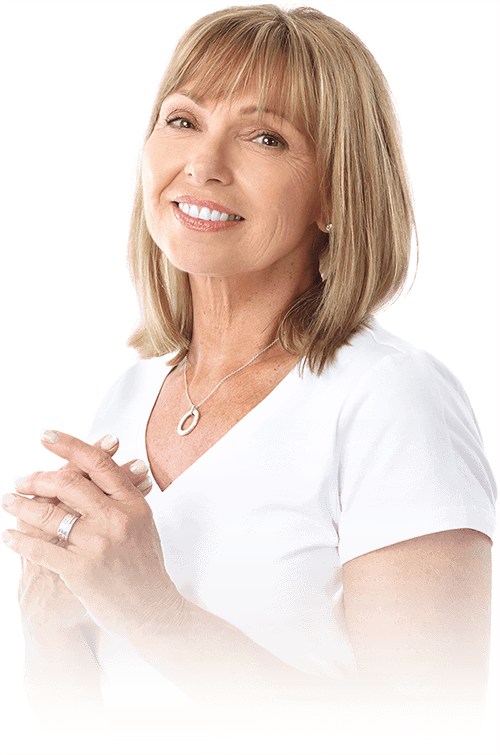 What Are The Expectations For Receiving Dental Implants?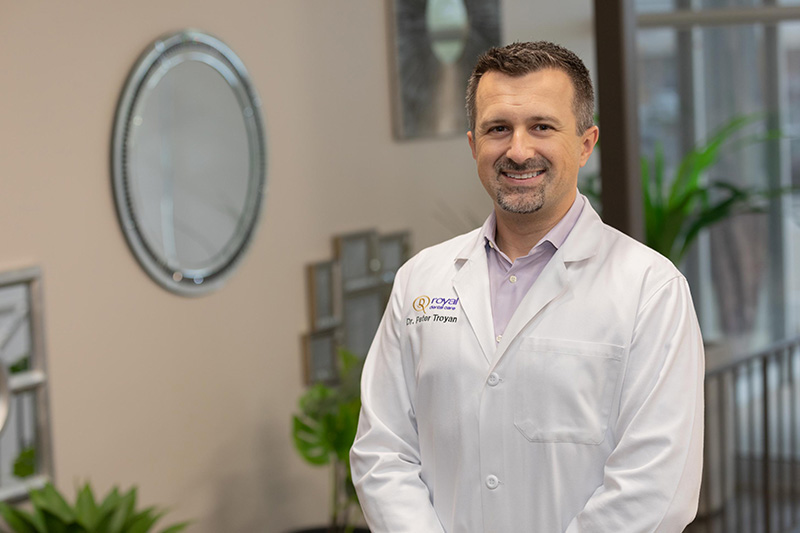 Dr. Peter Troyan As far as dental implants are concerned, the process is simple. It's a screw goes in place of a root. So simple replacement 1-2-1 usually. Doctors make it very complicated and make it sound all fancy, but for patients, all that matters is they're getting a tooth back that they lost. So an implant is a replacement for their loss tooth that's as simple as it can be.
Mainly it's for prevention, andand it's to prevent issues down the line. It's to increase longevity, of the patients because some studies have found that patients without teeth live about 10 years shorter compared to their peers that have teeth. So we do increase patients longevity, but quality of life quality definitely increases. I mean, if you think about somebody that has to mush their food every day, is that a good nutrition? I don't think so.
As far as our technology right now is concerned. They're the best replacement for a tooth. Tooth is still great. It's one of the things that we want to keep, but once the tooth is gone, implant is second best choice. By having that tooth quickly replaced, we don't lose bone, we don't lose facial aesthetics and we don't lose the smile. That's all we care about, right? Then functionality, you can chew better guaranteed.
We welcome all patients at Royal Dental Care, specifically those that find the need to replace their missing tooth with an implant. We do thousands of these per year, and we have the experience ,the expertise, the technology, and equipment to make that process happen easier, faster, and definitely more economical.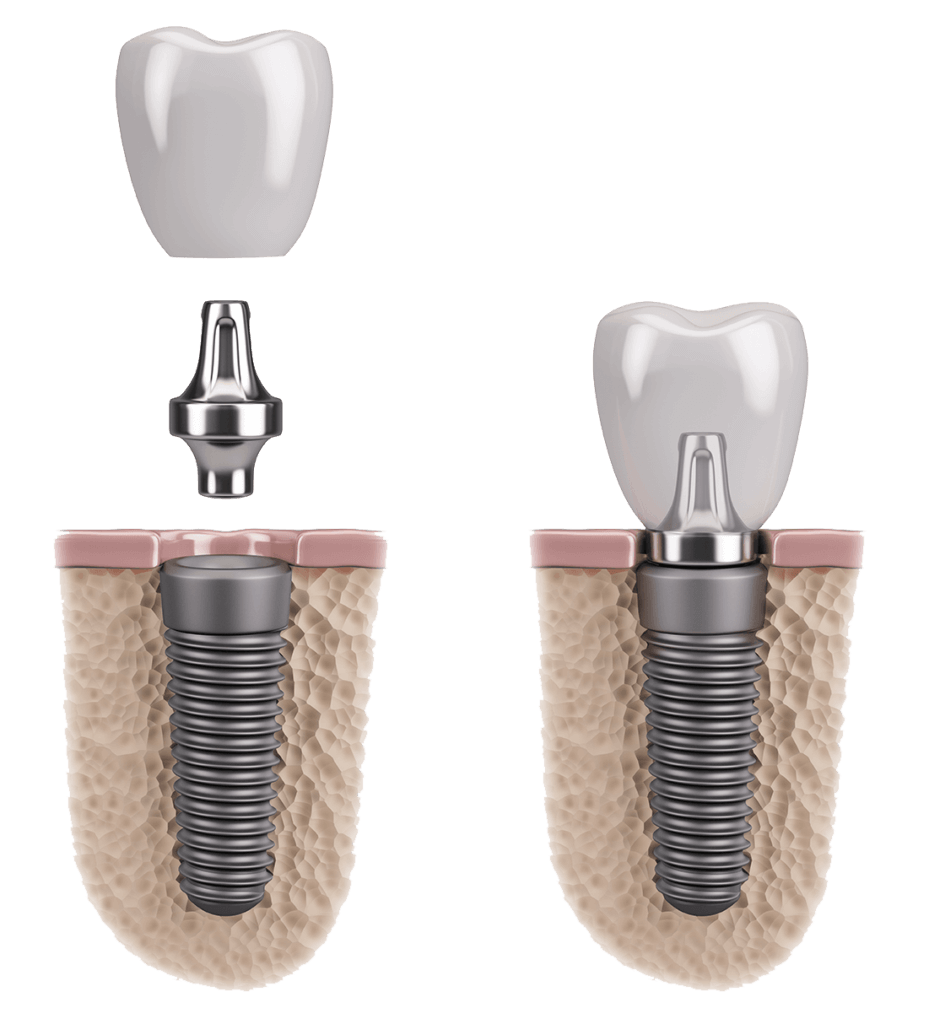 Single Tooth Replacement Options
Believe it or not, there are several consequences of tooth loss that you can't see from the surface. Your jaw isn't stimulated in the area anymore because you've lost the root, so your bone slowly deteriorates. This makes your adjacent teeth drift out of position because they don't have adequate support. This leads to alignment issues that can make it difficult to clean your teeth properly. As a result, you have a heightened risk of tooth decay and gum disease. As more time passes, you may even lose additional teeth because you've lost too much bone.
Now, multiple options exist to fill the space of a missing tooth to slow or entirely stop the complications. We offer two solutions to rebuild your smile.
Fixed Bridge
Fixed Bridge. The most traditional treatment is a fixed bridge, which replaces the tooth's crown. We take an impression of your mouth to recreate your lost tooth to fill the gap. The bridge is effectively held in its place by crowning the adjacent teeth. This provides a nonsurgical solution lasting an average of five to 10 years before needing replacement, but you must permanently change healthy teeth.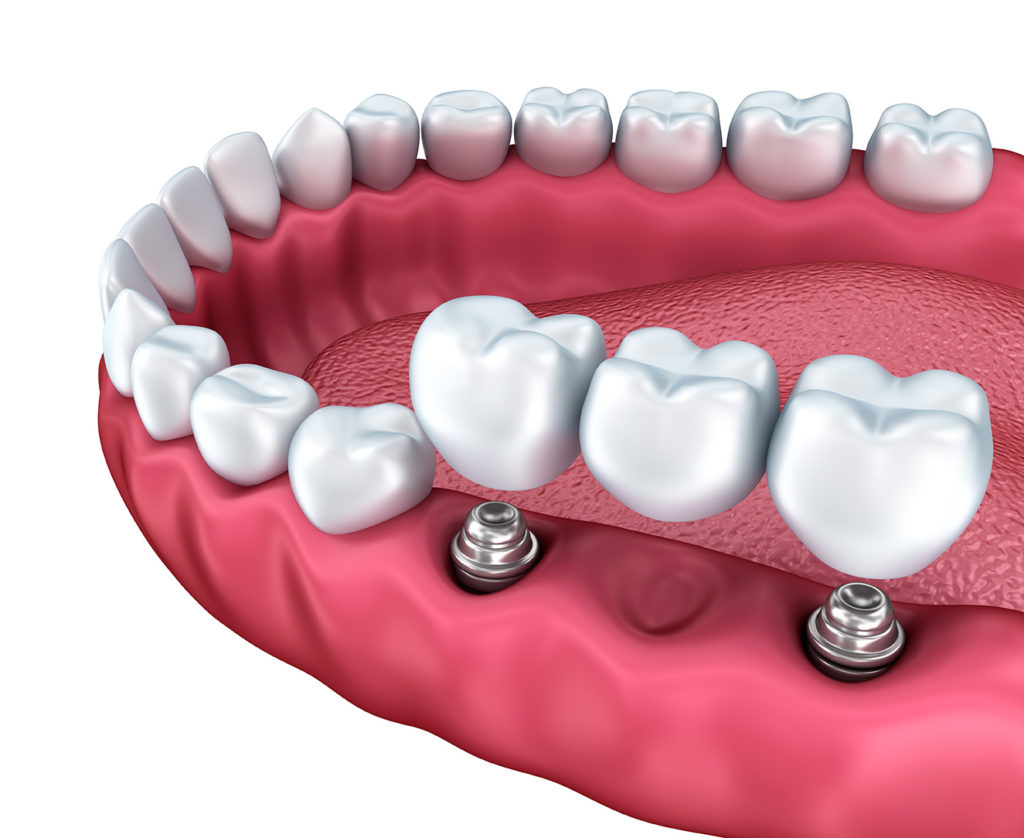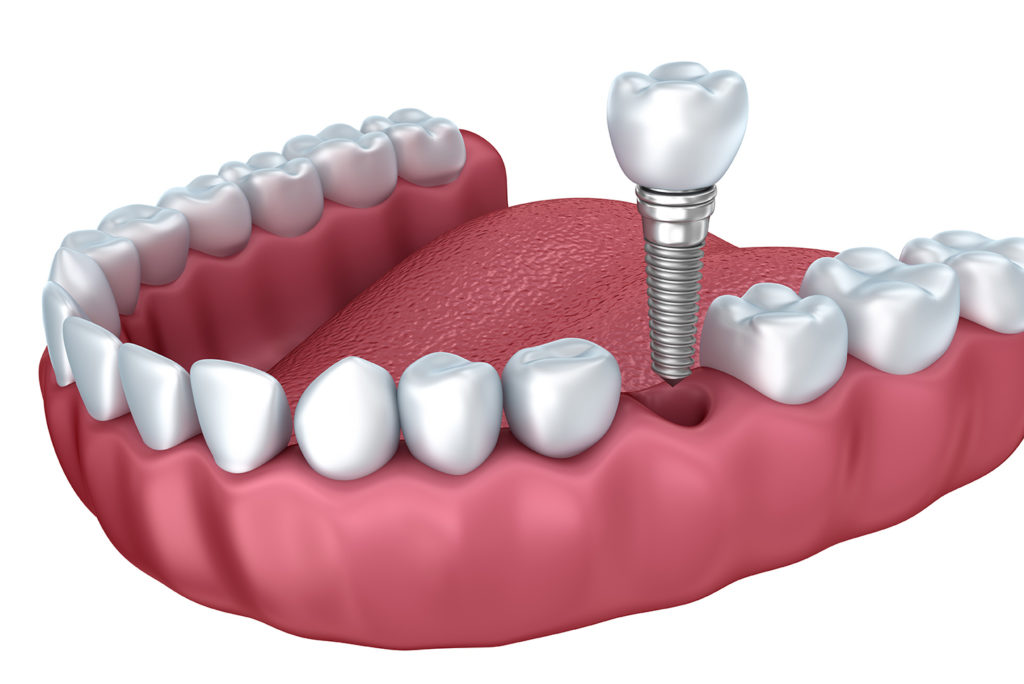 Single Tooth Implant
Single Tooth Implant. A single tooth implant is the only treatment to replicate the entire tooth structure, including the root. An implant post is surgically placed into your jawbone to mimic the root. Over the next several months, your bone fuses to the post, allowing it to remain in place forever. After the bone heals, an abutment is placed onto the implant post to connect your custom-created dental crown.
Benefits Of An Implant-Supported Crown
A dental implant is the only prosthetic to replace the entire tooth. This allows it to provide exceptional benefits that aren't possible with a traditional fixed bridge, including:
Over a 95% success rate to last for several decades.
Looks natural using all-ceramic material to restore your confidence.
Regain as much as 70% of your natural biting force to enjoy your favorite foods.
Stimulates new bone growth to stop dental drift.
Improves oral health and reduces the risk of additional tooth loss.
Doesn't alter healthy teeth.
Cost-effective and long-term solution.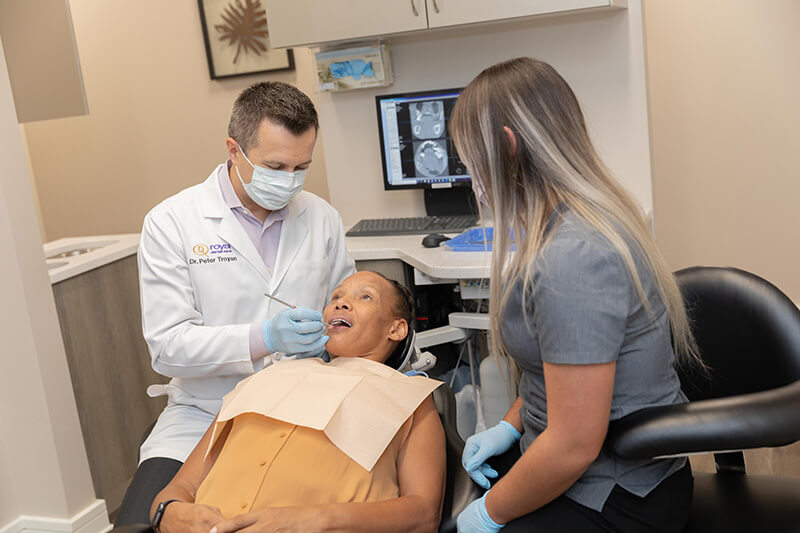 Contact us today!
Our team of dentists is here to help! Call our office today to schedule a consultation visit and get started restoring your smile! You can reach us at our Norridge location at (773) 232-3929 or our Schaumburg location at (847) 999-7620.
Our Patients Tell The Story Best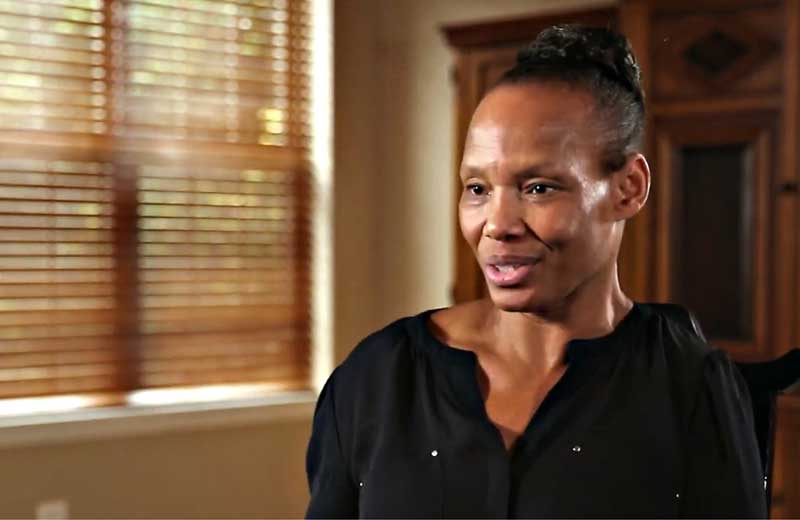 Chalise My teeth were chipping. I had soreness in my gums. My lower mouth was being affected by what was going on in my upper mouth. Bad breath. When I no longer wanted to hide and feel some of the pain I decided it's time to do something. You can't go on like this. You just simply have to make the time to take care of what's really important. It's going to affect my health sooner or later. When I first stepped into the office I felt like I was stepping into what looked like a palace. I was greeted by the receptionist, made me feel very comfortable. We talked a little bit, then we went around the corner into the next room. In the next room there was a wall, and the wall had all these plaques. I began reading from left to right. Each plaque would say something like America's Best Dentist or Top Implant Specialist, but I read every word and then I kind of felt like, okay, maybe I made the right choice. When I first met Dr. Troyan for the first time he made me feel very calm. He was very soft-spoken, very compassionate. After he examined the x-rays he is very thorough about the type of work I needed and he assured me that my smile would look totally different. That I would no longer have to hide my teeth anymore and the more he talked, the more relieved I began to be. Now that my upper jaw is completely done, I feel like I can smile freely. I feel like I don't have to hide my teeth anymore. I don't have to second-guess myself about the smile being too much or too little. I can just be myself and smile fully and not have to worry about anyone seeing missing teeth or chipped teeth or brown teeth. Dr. Troyan really did a great job. I'm an avid tennis player, I'm an avid pickleball player, and I bowl. Doing all those activities again here I was hiding my smile hiding my teeth, and it became exhausting. I was always wondering whether someone was going to see the brown spots the chipped teeth, but after I got everything done, I felt comfortable being able to play tennis smiling at my friends, smiling at my co-workers, smiling at my bowling teammates. Dr. Troyan and really changed how I smile, what I think about my smile, and the fact that I don't have to hide anymore. If you want a dentist that's always going to have your best thoughts in mind, what you need to be done, Dr. Troyan and staff and he will cover that for you.