Misaligned Teeth Can Cause Damage To Confidence And Self-Esteem And May Even Be Responsible For Intense Pain.
Orthodontics refers to the treatment of teeth and jaws using various methods, the most popular of which are braces.
Orthodontics is a specialized form of dentistry. In some cases, it may be considered cosmetic dentistry, but other times it corrects non-cosmetic issues. There are numerous types of orthodontic treatments. With today's advanced medical science, these methods are constantly changing and evolving.
Our staff provides orthodontic treatment for both children and adults. Orthodontics is designed to not only straighten teeth for a more attractive smile, but also provide a proper bite relationship between the upper and law jaw. Treatment can also address jaw and other issues related to facial growth and its relationship to the bite. Through braces, we help our patients establish a foundation for future dental health. In addition to traditional metal braces, we also provide porcelain braces to minimize the visibility of orthodontic treatment.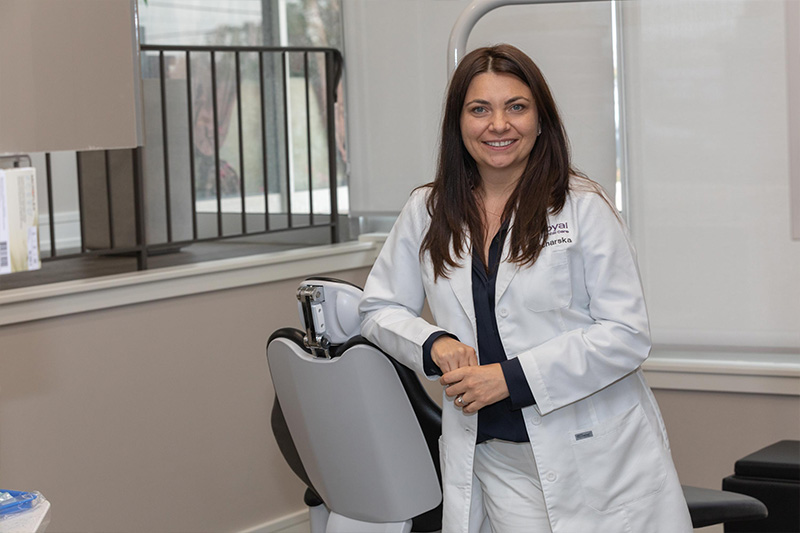 Dr. Agnes Kuchanska There's a lot of reasons that patients should seek orthodontic treatment. The first and most detrimental need would be that there's significant wear. If your occlusion is not proper, you will end up with significant wear attrition to your teeth. You would also benefit in facial aesthetics, even a profile aesthetics, once orthodontic treatment is finished.
Metal braces would be the best for teenagers, mostly because they're most durable. They are the best solution on the market, in my opinion. We get amazing results with metal braces, and they're definitely something that teenagers should look into.
So we have other alternatives for adult patients. We have porcelain brackets, which are more aesthetic. We also have Invisalign. The benefit of Invisalign is that you can actually remove it. You can brush your teeth. You can floss. It's more convenient. Especially in the professional field, no one is going to know that you're actually fixing your smile. So, Invisalign has a lot of advantages over metal braces.
So the technology behind the Invisalign, first appointment we usually take scans, we take pictures, wWe take our records for patient. We send it off to Invisalign company and aligners are being manufactured. So the patients get a set of aligners, and every two weeks they replace those aligners with a new one. Obviously, they will have to come in to see us, just to make sure that everything is tracking and that everythings progressing the way we wanted them to.
Here at Royal Dental Care we provide various solutions for patients from traditional metal braces, to porcelain braces, and also Invisalign. We will be able to provide perfect and beautiful straight teeth for any patient.
Why Choose Royal Dental Care For Orthodontics?
Advanced Training From Progressive Ortho Seminars
Certified Provider For Six Month Smiles, Fastbraces, Invisalign & More
Comprehensive Orthodontic Treatment In 1 One Convenient Location
Orthodontic Options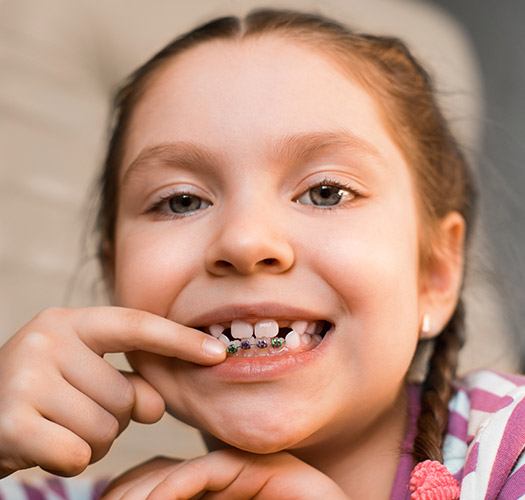 Phase 1 Orthodontics
Many common orthodontic problems are much, much easier to correct if they're addressed early in a patient's life. That's where Phase 1 treatment comes in! We'll work closely with your child to create space for developing permanent teeth and provide guidance for their bite as the jaw continues to grow and develop. We can also provide helpful tips to parents regarding how to positively end bad habits like thumb and finger sucking, which can negatively impact teeth over time. As a result, it's likely that the need for traditional orthodontic treatment will be greatly minimized or even eliminated altogether later down the road.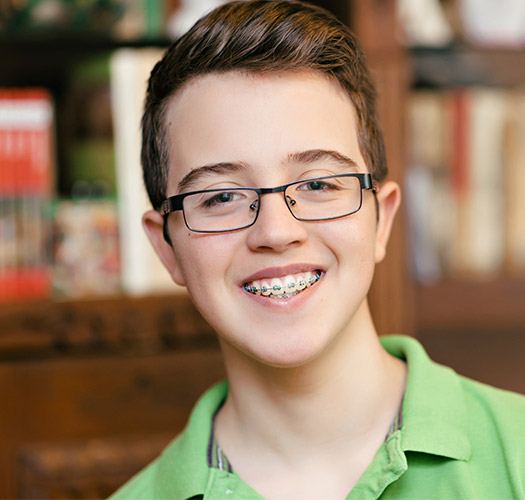 Traditional Braces
Traditional braces have been used to correct mild to severe orthodontic concerns for decades now, and they're still a highly reliable system that benefits children and adults alike here at Royal Dental Care. The system is simple and effective – brackets are connected to orthodontic wires with elastics, which gradually exert pressure on teeth over a span of months or years. In addition to the silver metals we're all familiar with, more image-conscious patients also have the option of choosing porcelain braces for a much subtler and more aesthetically pleasing treatment process.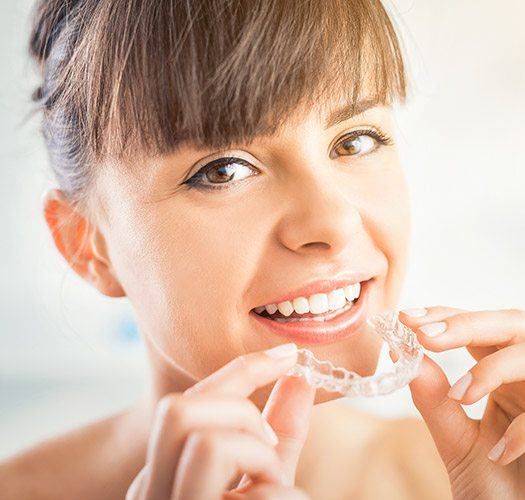 Invisalign® Clear Braces
Through the Invisalign® system, many of our patients can enjoy effective orthodontic treatment without the need for traditional metallic braces. In the past, when faced with wearing metal braces, many people simply chose to live with their crooked teeth. Instead, through Invisalign® virtually invisible braces, these individuals can obtain straight teeth and health smiles. Adults considering orthodontic treatment many times wonder how metal braces might be perceived in the professional setting. With Invisalign®, most people will not even realize you are undergoing orthodontic treatment, unless, of course, you decide to tell them. The Invisalign® system uses a series of clear plastic aligners to straighten teeth. Each aligner is designed to apply the appropriate pressure necessary to move teeth into a more beneficial position. Each Invisalign® aligner is worn for about two weeks, and the overall treatment time is about the same as traditional metal braces. Aligners are worn 24 hours a day, except during meals. The revolutionary nature of Invisalign® has opened the door to high quality, effective orthodontic treatment for many.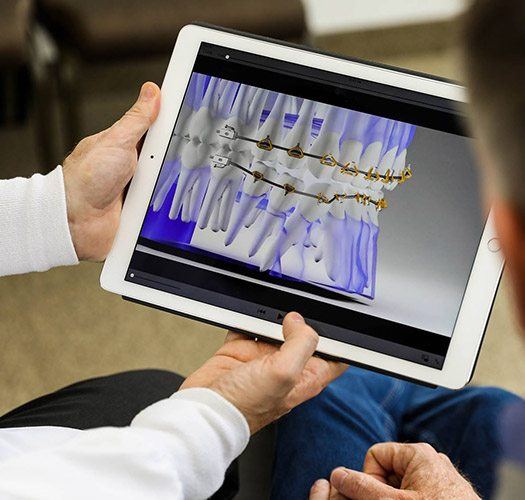 Fastbraces®
Traditional braces can often require up to two or three years of continual wear to be fully successful – many of our patients simply don't have that kind of time. That's why Royal Dental Care is also happy to offer Fastbraces, which is a revolutionary alternative that realigns the root and crown portions of natural teeth simultaneously for maximized efficiency. Some patients see positive improvements in just three weeks, with most treatment plans only requiring up to a year at the very most!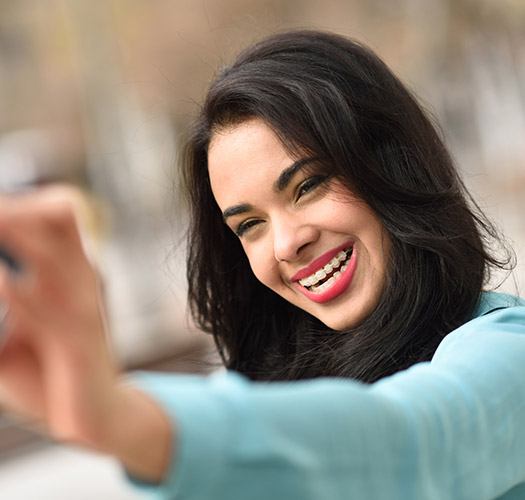 Six Month Smiles®
If you're focused on wanting to correct the alignment of teeth that are very visible in your smile, Six Month Smiles could be the best orthodontic service for your goals. Like the name implies, this system can create beautiful, dramatic improvements over an average of just six months – it accomplishes this by focusing its full energy on correcting prominent teeth. Better yet, the components of the braces are either clear in nature or tooth-colored, which means they blend right in with a patient's confident image.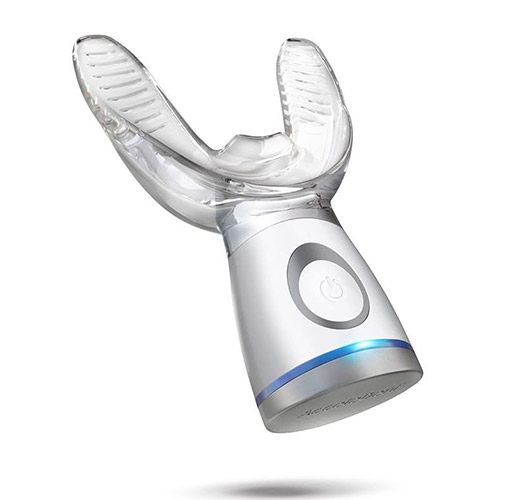 Acceledent®
AcceleDent is a modern orthodontic technology that can help speed up the effectiveness of traditional braces and more aesthetic services like Invisalign alike. It comes in the form of a lightweight device with a mouthpiece that covers the patient's braces or aligners in a hands-free manner. You only need to wear it for around 20 minutes daily; the mouthpiece will apply gentle, consistent micropulses to the teeth, accelerating the bone remodeling process. In many cases, treatment speed can be improved by up to 50% as a result!
Our Patients Tell The Story Best
It Was Braces That Fixed My Underbite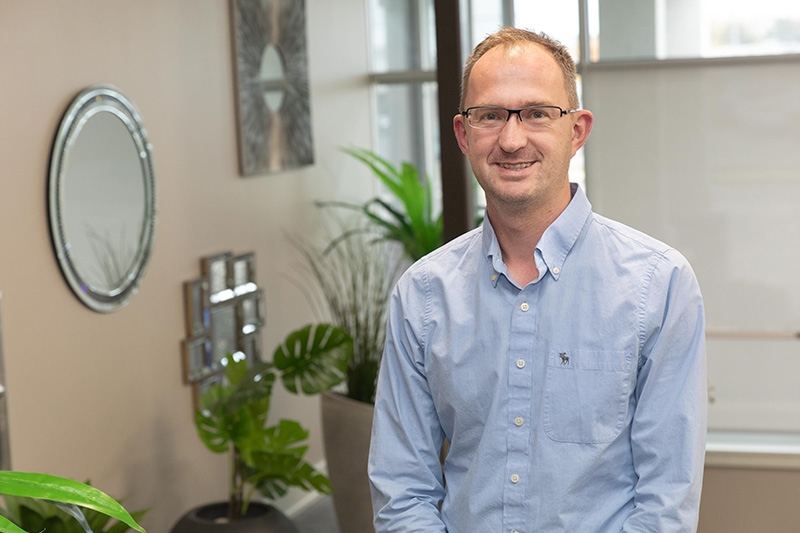 Patrick  – My problem was big, because I have an underbite, and crooked teeth and upper jaw. It was a huge embarrassment. When I try to smile. When I try to talk with someone. Honestly, I don't know, probably I grew up to do this. I supposed to do this earlier, but I was probably too young too stupid, and when I grew up I says, okay, it's time.
Dr. Agnes Kuchanska – Patrick was a male in his late 30s. I remember he would come in for a consult. I would tell him that surgery was an ideal option for him, but then we can try to fix his underbite without surgery.
Patrick  – I went to the other doctors for a consultation, and the huge problem was they trying to fix my smile, but with surgery and I says, "no, it's not gonna happen." But I came in here and after Dr. Kucharska says we will do this without surgery. Dr. Agnes Kuchanska I explained the options to him. We decided that he would get pallatal expander with traditional braces. And we started the treatment.
Patrick – Dr. Kucharska, she was an excellent doctor and she was very patient. And, she just trying to explain everything. But, like I said in the beginning, I wasn't sure if I would like to do this and the major problem was the surgery. But when I make a decision and the doctor says, okay go for it and we'll do this without surgery and it's done.
Dr. Agnes Kuchanska – With the help of the expander and the braces, I was able to correct his underbite. Patrick is going to get his braces off in a week from now. I know he's counting the days. I was able to restore his smile.
Patrick – I smile everyday, everyday, everyone knows I'm smiling and that's the reason it's like my business card when I'm smiling. I would like to thank the team and especially, Dr. Kucharska because she did a great great job. She fixed my smile and right now I'm so happy.