Instructions
First Time Sign Up
1. Go to "Patient Account Access" page
2. Register your new account – fill out all the details on the form below, and hit "Submit"
● Minimum 9 characters
● No special characters
3. After you submit the registration form, you will get the following confirmation screen: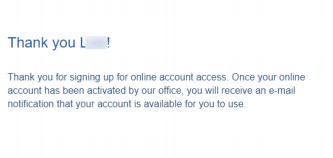 4. Allow up to 24 hours for the account activation
Login
1. Go to the online portal, type in your login and password and choose "Log In"
2. Navigate to "Ledger" to see your current outstanding payments.
3. Once you identify the amount you would like to pay, go to "Pay Now" and fill out the Patient
Information, Contact Information, and Payment Information (Payment Amount)
4. Fill out your credit card details and proceed with the payment by clicking "Process
Transaction"
5. After successful payment you will receive an email confirmation.